miscellany monday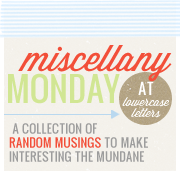 Hop on over to Carissa's Blog and join in on the Miscellany
1. I SHOULD be in bed napping, so I can work tonight, however I am updating this bloggity instead. rebellious.
2. There is a little child currently kicking me in the ribs, and I must say although they are sore, it is a nice relief from her former transverse position-which was UNCOMFORTABLE!
3. I rarely get sentimental. I just am not that kinda girl. However, yesterday I was at my parents looking through pictures trying to find baby pictures of me for my shower- and I got choked up several times at some of the pictures I saw. First was a pic of my mom and grandpa walking down the aisle at her wedding. Dan and I got married at the same church as my parents did and the pic just reminded me of the ones of me and my dad walking down the aisle. My grandpa passed away several years ago and it just reminded me of how quickly time passes by. Then I also was getting choked up at the pictures of my parents with me as a newborn. The thoughts/feeling they must have had- WE are about to experience those. Again- time just passes quickly I guess. I know, I know...mushy sentiment, but it's rare on this blog so deal.
4. Our nursery decorating is coming to a close and as our house fills up with stuff for baby girl it is HARD TO BELIEVE she will be here so soon! I am sad to see Dan and I's family of two leave, but I am excited for the adventures that our new family of three will encounter. I am so blessed and lucky to have a man that loves me so much. I could not have wished for a better husband or father for my children. I am blessed beyond measure to be living this life with him! Seriously- it must be the hormones...mushy.
I guess I will leave you with that mushy mess for today.
Love, La