Random things for today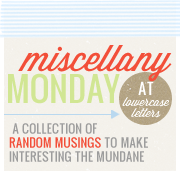 1. I am sick again. We have had such bad luck with illness in our house this winter. I pride myself in having a good immune system (it used to be HORRIBLE, but since working at a pediatric hosptial it has gotten SO MUCH BETTER!) however, pregnancy and illness = sick LA. Dan is sick too, but that is because his tonsils need to come out-but what do I know? right?
2. I have had so much fun crafting/repurposing things this week. I even got Dan into it a bit. He went to the thrift store with me and picked out some good projects.
3.I really want to go on vacation! A beach vacation would be lovely. Just saying.
4. Today when I was trying to nap (It was mostly a failed endeavor) my little lady kept moving all around. It was so fun! She has never been that active. I can't wait till Dan can feel her too!
5. Have you seen "The business of being born"? Its a good documentary about hosptials and childbirth in this country. Check it out. *warning, this documentary is about having babies, so some nudity and grossness will be encountered. =)