Random thoughts on a monday!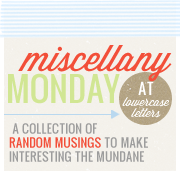 Jump on over to Carissa's blog and link up!
Monday Miscellany
1. Apparently we are going to get the snow storm of the last 50 years. Unfortunately I have been watching FRIENDS on dvd and completely missed that news. So today I panicked momentarily about not having bottled water and such prepared- and that my hubby works so far away (yes I know it is only 30 minutes but lately I have been wanting to gather those close to me, I think it is a pregnancy thing. I just want everyone nearby, safe & sound) Good thing I memorized those verses in Matthew- see it works- the storm is suppose to hit tomorrow and Jesus instructs me NOT TO WORRY ABOUT TOMORROW BECAUSE TOMORROW WILL WORRY ABOUT ITSELF.
2. We are having a healthy baby girl. I know I mentioned this in that horribly annoying PINK post a couple days ago, but I just wanted to say EEEEEEEEEEEEEkkkk! I am still so excited and thankful
3. I would like to learn how to accessorize better. I read a friends post and she described wearing a shirt with an armful of bangles. Sounds exciting huh? (I don't think this fits into the DO NOT WORRY ABOUT CLOTHING piece from my memory passage this week….I'm not worried, just thinking) My only consistent accessories are my wedding rings and the rubber band that may or may not be on my wrist
4. I went to Qdoba with some friends when I was in Colorado and ever since I have been craving this "mexican gumbo they have" It is basically their chicken tortilla soup poured over rice and black beans. And WOW is it good. Too bad we don't have any Qdobas in KC. Dan and I went to on the border just to get chicken tortilla soup the other day. It was good and settled the craving, but wasn't quite the same. At least it still had rice, but no beans =(